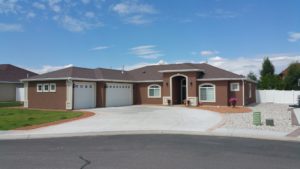 Why Buy With Porter Realty, Inc?
Purchasing a home can be an overwhelming process. Everything in your life is about to change as you look to embark on this new journey. That is why Porter Realty strives to provide each of our customers with the best experience when purchasing a home. Our goal is to provide our customers with an enjoyable experience for purchasing a home.
Call us at (719) 589-5899 we are here to help you!
---
We created our advanced search to help you find characteristics such as price, amenities, location, and more that accommodate your needs. We look forward to helping you find your perfect home.
Pre-Approval
The pre-approval process is a critical step in the progression of purchasing a home. To us, the pre-approval process validates our client's commitment to our partnership, igniting our trust within the purchasing process.
At Porter Realty, Inc, our hands-on experts are happy to help our clientele as best as we can. Simply email us at office@porterrealty.com for recommendations for local lenders that have been proved affordable, reliable, and trustworthy. We look forward to hearing from you!
Escrow and Closing Costs
Porter Realty, Inc adamantly strives to provide transparency to our clients. Therefore, we believe that it is critical to be on the same page as our customers regarding closing costs. Closing costs are additional fees when purchasing a home such as processing charges, title insurance and search, mortgage taxes, appraisals, and more called "closing costs". We understand that these added charges can be frustrating and confusing. Therefore, we are here to help with any additional questions or concerns you may have.
Relocation
Relocation can be a scary but exciting process. As your support group through your homeowner's journey, Porter Realty, Inc is here to make this transition as painless as possible.
Below, you will see a link to our relocation guide designed to provide a quick run-down of our communities specifically tailored to your needs. You will find information such as school districts, our local businesses, and what attractions Alamosa prides itself on. Please reach out to our experts at office@porterrealty.com, as they are happy to offer any additional assistance to find the amenities you need.
First-Time Buyers
We understand purchasing a home for the first time is a lifechanging decision, and we are here to be your support throughout this exciting time. Porter Realty is thrilled to see you through your adventure by providing our clients with recommendations and personal consultations to help make this process easy.
Seniors
Porter Realty, Inc is honored to assist our senior population with finding a home that suits their necessities. Our agents are committed to finding the proper accommodations to meet our elders' needs through extensive research and collaboration.
Moving Van
As your support group through your homeowner's journey, we Porter Realty, Inc are here to provide any recommendations for local moving companies to help make your move easier. We are happy to assist you by steering you in the right direction. We look forward to hearing from you soon!

401 Edison Avenue/3415 Mariposa, Alamosa, CO 81101 | (719) 589-6653 & (719) 587-4035
Midwest Mortgage Associates/Total Lending Concepts
609 Main Street Suite 103, Alamosa, CO  81101 | (719) 470-2105

Rio Grande Savings & Loan Alamosa Branch
3416 Mariposa Street, Alamosa, CO 81101 | (719) 589-2536